Trustworthy & Committed Obstetric Care for Frisco, TX Families
With Dr. Catherine Holt, patients can rest easy knowing that they and their unborn child are both in good hands. From the first prenatal appointment to the exciting delivery of your family's new addition, she will be there to support you every step of the way with experienced, professional attention that will help you feel confident about your journey.
Labor & Delivery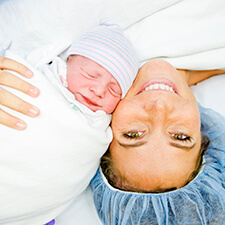 The best parts of our job are bringing happy, healthy babies into the world and seeing families fall in love with their new addition. During your pregnancy, Dr. Holt will answer your women's healthcare questions and provide you with the information and prenatal care patients from Frisco and surrounding areas will need for an enjoyable labor and delivery experience.
Dr. Holt will discuss comfort options and prepare you for what to expect throughout the delivery process, and she will provide comprehensive prenatal care along the way.
Prenatal Care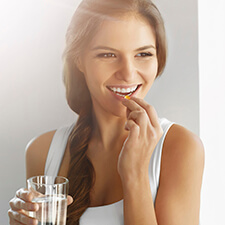 Understanding how to care for yourself and your baby during pregnancy is an important part of motherhood! Dr. Holt provides comprehensive prenatal care for women in Frisco and the DFW metroplex, from regular exams to diet counseling and all other aspects of women's healthcare during pregnancy. During the first 28 weeks, you'll visit Dr. Holt's Frisco office once a month. You'll visit every other week from weeks 28 to 36, and after week 36, you'll come to the office for weekly checkups.
Whether you are a new parent or have already had children, having a highly educated, experienced, and caring prenatal doctor is vital to your positive pregnancy, labor, and delivery. Dr. Holt and our team will answer all of your women's healthcare questions and provide open, honest communication in all aspects of your prenatal care.
Low and High Risk Pregnancies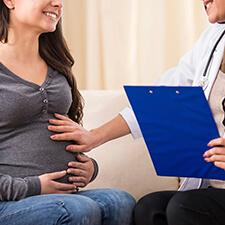 The risk level associated with a patient's pregnancy is determined by several factors, some of which are present from the beginning of pregnancy and some that can develop over time. A low-risk pregnancy is anticipated to be free of problems, while a high-risk pregnancy is considered to be more likely to develop complications before, during, and after the delivery of the baby. Dr. Holt has been involved with countless pregnancies of varying risk levels over the course of her career, including many high-risk situations, and she will be sure to provide you and your baby with the personalized and professional support you both deserve.